Lockboxes
Assessing Your ShurLok

ShurLok Trouble Shooting Guide - Page 1
(updated 2.28.2007)

While you were setting the ShurLok to your own combination, it is very likely that one digit was inadvertently moved up or down as you worked your way to the right. By following the instructions below , Our statistics show that you have a 25% chance of resolving the problem without any additional time investment on your part. If this online support does not resolve your issues, we offer a service which resets the ShurLok to the factory default. The instructions for doing this are available at the end of our Trouble Shooting Guide.
The shackle, key storage compartment, and the change screw are all interrelated. This means that if the shackle does not open on the combination you intended, you won't be able to open the key storage compartment or turn the change screw.

Very Important: The change screw will only turn when the correct shackle code is on the dials. Forcing the change screw to turn with any other combination will result in a stripping the outside surface of the screw. This will void the warranty on the ShurLok.

Please answer the question below. You will be directed to the best solution for your ShurLok.
Hold the ShurLok in the palm of your hand, with the shackle at the top, and the key storage door at the bottom.
Holding it in this way, determine if the change screw vertical (facing up and down), or horizontal (facing left and right). View the illustration below.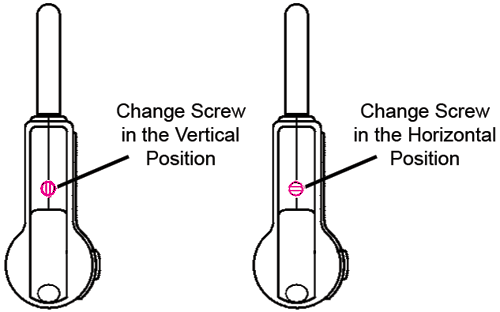 What is the position of the slot in the change screw?
If it is vertical (facing up and down), click here.
If it is horizontal (facing left to right), click here.